Tired of searching Instagram feed WordPress Plugins for your Website?
Well, Integrating Instagram into your website does two things –
it adds a little social street cred and
takes care of hosting those images!
So if you're planning to embed Instagram on your WordPress site the easiest way is to use Instagram Feed Plugin.
But, How to find which Instagram WordPress Plugin will suit your needs?
No worries, in this article we are going to discuss the " Top 10 Best Free Instagram feed WordPress Plugin" you can try on your website.
Also if you're a beginner in WordPress or a Small business owner would like to know " How to embed Instagram Feed on your WordPress Website" go through it.
1.Social Feed Gallery
Social Feed Gallery is built with simplicity in mind, allowing to you easily sync up and configure how to display Instagram feed on the website from your Instagram Account.
It also updates the cache and testimonial data from Instagram automatically – so that loading times are reduced to their absolute minimum.
They even provide an API if you wish to tweak it to your heart's content!
But what if you wanted to create a pop-up box effect?
Well, you can do that too with this Popular Instagram Feed WordPress plugin.
With a lightbox to allow users to see your content – you can really pop out from the crowd!
Pricing,
Furthermore, with the free version, you can do some basic customization as well.
Social Feed Gallery is a great option for beginners – and you should definitely check it out!
2. 10Web Social Photo Feed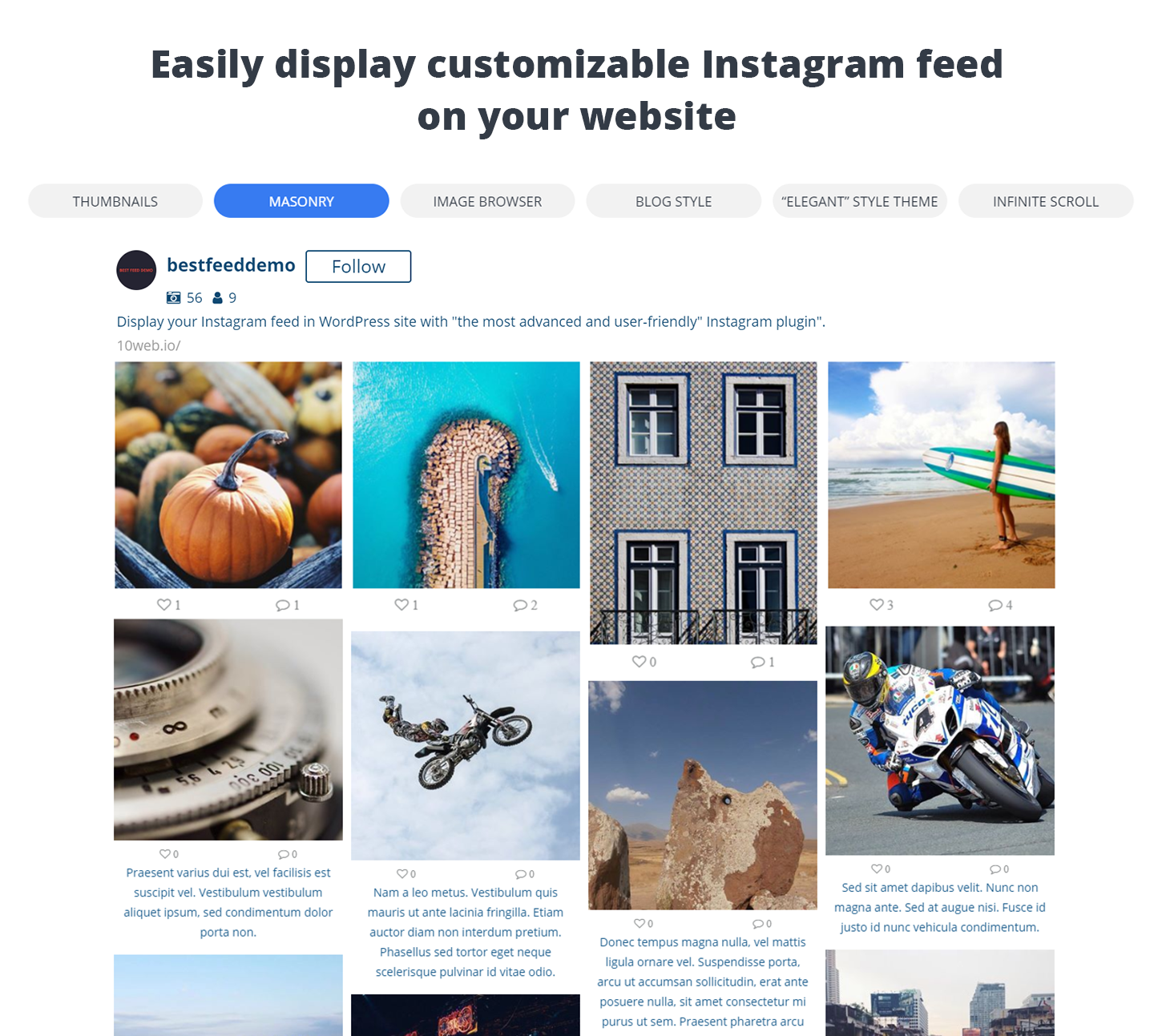 10 Web Social Photo Feed is another popular WordPress Plugin to add Instagram Feed on your Website.
With this Instagram feed plugin – the number of combinations is too great to count!
Along with customizable layouts such as thumbnail, image browser, masonry, and blog style.
You can also display metadata that is most relevant to your niche!
Wish to integrate the entire gallery on your website?
Using shortcode – you can definitely do that.
In fact, sometimes you wish to incorporate a little filter condition magic into the selection of photos that are displayed – and 10Web Social Photo Feed gives that power.
Of course, you have the ability to embed widgets – and mobile-friendliness is built in.
Lastly, their forums and support teams can help you fix any issues you may have.
Time to entice your visitors to convert into customers with this plugin!
3. Smash Balloon Social Photo Feed
Looking for an easy to embed Instagram Feed plugin?
Then you got Smash Balloon Social Photo Feed WordPress Instagram Feed Plugin.
It is not only easy to set up, but you can display photos from multiple Instagram accounts in the same feed or multiple feeds.
It is also completely customizable – with the option to edit the width, height, number of photos, number of columns, image size, background color, and imaging spacing to name a few!
Remember how it can display multiple feeds?
Well, you can do that on the same page or on multiple pages.
Those feeds can then be organized by popularity or in random order – so that your visitors can't help but feel excited about what you're going to share next!
With engagement being the most sought-after attribute when it comes to brand recognition or marketing – you can increase that with this plugin by your side.
4. Slider and Carousel Plus Widget for Social Media
If you are looking for a solid option for an Instagram Feed plugin then Slider and Carousel Plus Widget for Social Media plugin can do the magic.
You can organize images in a grid view or slider view – according to how much space you want to take up (sometimes bigger is better).
It also integrates the number of likes and comments on your feed as well – so that you can show off your popularity!
Now, we know that moving the mouse over each time you want to go to the next image can be a bit tedious.
But this plugin takes care of that!
Instead of the mouse, you can directly use your arrow keys.
And if you're wondering about mobile-friendliness – don't, because it's just as fast on mobile!
So go out there and Instagramify your website!
5. Social Slider Widget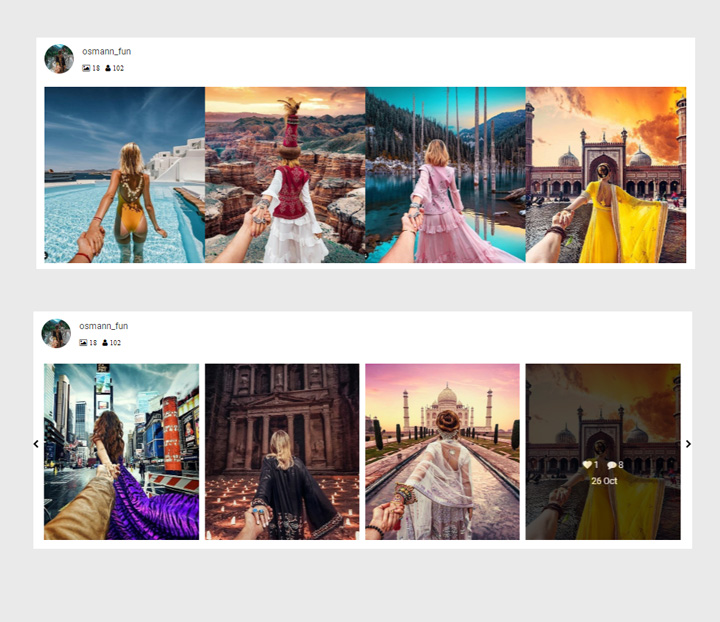 Social Slider Widget is a great option for those that are seeking a dependable Instagram Feed plugin,.
This plugin comes with multiple boasting features such as ease of setup, the ability to display images in slider mode or thumbnails, and completely responsive on any device!
Add to the mix the ability to customize the layout – from the number of images shown, to the spacing between them as well as their size!
But what if you want to show off your most popular images?
Well, you can do that too – and by date, if you wish.
This allows you to save time while simultaneously ensuring engagement.
When it comes to a feature-packed Instagram Feed plugin, Social Slider Widget certainly has your back!
6. Social Gallery & Widget
If you're looking for an open-source alternative – then Social Gallery & Widget is a fantastic solution.
Not only is it easy to set up, but it is completely responsive and mobile-friendly.
You can display thumbnails, small or large-sized photos from your Instagram Feed.
You can also adjust the number of feeds to be displayed – up to a whopping 30!
Want to integrate it as a widget or add it through a shortcode?
This WordPress Instagram Feed plugin enables you to do either!
Furthermore, you can customize the feed using attributes like title, username, number, and size – giving you complete control over how it looks and is organized.
Now install the Social gallery & Widget Plugin and wow your visitors!
7. AccessPress iFeeds
AccessPress is a Well known name when it comes to WordPress Themes.
With access to the AccessPress iFeeds, you can create spectacular Instagram Feeds on your Website that makes your competitors jealous.
It directly uses the Instagram API to fetch your images, so security and performance are of the utmost priority.
You have three modes to choose from when it comes to how your photos are organized: normal, slider or lightbox.
Need shortcodes or widget access? It's built-in.
What about mobile users, you say?
Mobile-friendliness is baked-in so that you can serve visitors in the best way possible.
Plus, with dedicated email & forum support along with free lifetime updates, you can't go wrong with this plugin!
8. WP Instant Feeds
Want to Embed your Instagram feeds without generating an Access token?
WP Instant Feeds WordPress Plugin allows you to do that.
This plugin got to be the Instagram plugin for minimalists – with a sleek, simple, and intuitive interface it focuses on its purposes with extreme clarity.
The shortcode that is integrated into your website is so simple, you'll feel like a developer by the time you're done!
With options like the ability to limit the number of images shown, the layout of the feed, and the size of the images themselves, you'll be a pro in no time.
You can also preload or reload the cache for superior performance.
Did we mention that this is open-source software?
Yep! Completely dedicated to allowing you to customize it according to your needs.
Start your journey of creating your tribe now!
9. Easy Photo Feed Widget
Meks is already known for making fantastic themes.
But they make a sick Instagram Feed Widget plugin too! "Easy Photo Feed Widget"
With the ability to add images from multiple usernames, pulling any number of images, and fine-tuning the widget container to fit your brand the sky's the limit with the number of conversions you can carry out!
Plus, with the automatically integrated 'Follow Me' link you can raise the number of followers from your website.
Talk about reach! And with built-in caching for optimized performance, your visitors can see your images front and center without waiting for each image to load one by one.
Time is money – and this plugin respects that you want both!
10. WPZOOM Social Feed Widget
WPZOOM Social Feed Widget is another Instagram feed widget plugin.
This Instagram Widget Plugin allows you to customize its design with CSS!
You can use a one, two, or three-column layout when integrating it with your WordPress website.
Also, from a company that makes WordPress themes since 2008, you can be sure that they know a thing or two about design!
Need to display photos from multiple Instagram accounts?
Well, with WPZOOM Social Feed Widget you can create those outstanding feeds.
Limited only by imagination, this can allow you to create the best Instagram feed your visitors have seen!
Best Free Instagram Feed WordPress Plugins
Social Feed Gallery
10Web Social Photo Feed
Smash Ballon Social Photo Feed
Slider and Carousel Plus Widget for Social Media
Social Slider Widget
Social Gallery and Widget
AccessPress iFeeds
WP Instant Feeds
Easy Photo Feed Widget
WPZOOM Social Feed Widget
Wrapping Up,
In conclusion, we can say that now you have a list of Instagram feed WordPress Plugins to choose from. If you don't know How to embed Instagram feed on your Website, those WordPress Instagram Plugins are very easy to setup. Using any of these free Instagram feed plugins you can add your Instagram Widget anywhere on your WordPress Website.
So embedding Instagram feed on WordPress Website is now easy right?